The October FULL BLOOD Moon Yarn & Fiber PREORDER is open until 10/9/23
Welcome to the The 2023 Full Moon Special Yarn & Fiber Series. This year, we will explore new names and colorways for each full moon. I have added a simple recurring subscription option so you will never miss out on the special Full Moon Colorway!
Learn More
The 2023 Festive Yarn Tasting Advent
✨My Limited Edition Festive Countdown Calendar for 2023 Pre-order is here! The festive and colorful treats and drinks theme for the last 2 years were such a hit and so much fun to create - so I have decided to do it again for 2023 - with all new inspiration recipes!
Learn More & Pre-Order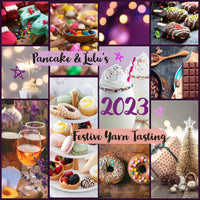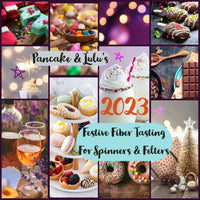 The 2023 Festive Fiber Tasting Advent
✨By popular request! Introducing the Festive Fiber Countdown Calendar for Spinners and Fiber Crafters. Just like my Mini Skein Advent but with a gorgeous American Merino Wool Roving base! Very limited number available.
learn more and pre-order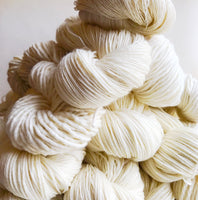 Choose Your Yarn Base
Click below for content, weight, yardage, recommended needle size and projects -  all the details for my 20 yarn bases.
Explore the Bases
Pancake and Lulu Clubs and Gift Cards
Pancake and Lulu Indie Hand Dyed Yarn
The highest quality, carefully selected yarn bases and rovings are hand dyed with complex color layers in small batch, individual dye sessions. This meticulous process creates beautiful, subtle color, only achievable by this hand application technique. You will delight in forming each color-glazed stitch and produce a beautiful, unique project!
Recent Reviews
When I was looking to get my sister, who crochets beautiful gifts, some high-quality yarns for her craft, I quickly realized just how little I knew about yarns. Fortunately, I found Aimee and the PLY Club! My sister can't wait to see what Aimee selects each month and her baby granddaughter wears just about nothing but Pancake & Lulu-sourced and Grandma-made clothing. My sister loves her year-long gift and I am indebted to Aimee for her superior customer service and very high-quality (and beautiful) product. Do yourself a favor and get someone you love the yarn club!

⭐️⭐️⭐️⭐️⭐️

Eric
I am in LOVE with the yarn I just ordered from PLY!! 😍 The colors are vibrant and beautiful. The colors are even more beautiful in person. Thank you so much!!

⭐️⭐️⭐️⭐️⭐️

Lisa
This yarn exceeded all of my expectations — it is unbelievably soft and yet smooth even though the suri alpaca-silk has a lovely halo of cloud-fluff (it feels like a fluffy kitten) which is so snuggly — but it is the colour of this yarn that gives it super powers...
I honestly can't wait to have a closet full of this yarn to knit everything in this colour, as it has been a dream to knit. (And I still can't stop staring at it!) <3

⭐️⭐️⭐️⭐️⭐️

Kass