Pancake and Lulu Yarn Bases
Details on all PLY Yarn Bases
Bases are listed from Lace to Bulky weight.
Weight per Skein: 3.5 oz (100 grams) for all skeins except Kid Mohair Silk (50 grams), Suri Silk (50 grams) and PLY Giant (250 grams).
*Mini Skeins* are available only in these 7 bases: Single Fingering, Merino Nylon Fingering and DK, Euro Fingering, Highland Fingering and DK, and Sparkle Fingering. Minis are 20 gm (.7 oz) - lengths are listed below under yarn names. Minis are available for yarns marked with an asterisk (*).
Note on Color: Lux DK, Lux Suri Silk, Kid Mohair Silk, and Merino Cotton absorb the dye in a softer, slightly lighter hue than the other bases due to the different fibers.
Lace Weight:
Kid Mohair Silk Lace: 459 yd (420 m) of single ply 72% kid mohair / 28% silk (weight: 1.76 oz (50 gm) per skein. The super soft halo on this lace weight yarn is gorgeous -hold along with another yarn for an extra special effect!
Suri Alpaca Silk: 328 yards (300 m) of 74% baby suri alpaca / 26% mulberry silk (weight: 1.76 oz (50 gm) per skein. super soft, snuggly soft texture in fingering weight - hold along another yarn like a fingering weight to make a DK weight or hold double for a worsted weight.
Fingering / Sock / Sport Weight:
PLY Fingering Sock: 400 yd (366 m) of 2 ply 100% super-wash merino wool
*Single Fingering Sock*: 400 yd (366 m) / mini is 

80 yards (73 m) 

of single ply 100% super-wash merino wool
*Merino Nylon Fingering Sock*: 463 yd (423 m) / mini is 

92 yards (84 m) 

of 4 ply 75% super-wash merino wool/25% nylon
*Euro Fingering Sock*: 438 yd (400 m) / mini is 

87 yards (80 m) 

of 4 ply 100% super-wash merino wool
*Highland Fingering Sock*: 459 yd (420 m) / mini is 91 yards (83 m) of 4 ply rustic 100% Peruvian Highland wool
Merino Cashmere Nylon (MCN) Fingering Sock: 400 yd (366 m) of 2 ply 80% super-wash merino/ 10% cashmere/ 10% nylon
*Sparkle Fingering Sock*: 438 yd (400 m) / mini is 

87 yards (80 m) 

of 2 ply 75% super-wash merino wool/20%nylon/5% stellina
Merino Silk Fingering Sock: 438 yd (400 m) of single ply 70% super-wash merino / 30% silk
Merino Cotton Fingering Sock: 436 yd (399 m) of 4 ply 50% super-wash merino / 50% cotton
PLY Sport: 328 yd (300 m) of 3 ply 100% super-wash merino wool
DK / Worsted / Aran Weight:
PLY DK: 231 yd (210 m) of 4 ply 100% super-wash merino wool
*Merino Nylon DK*: 245 yd (224 m) / mini is 49 yards (45 m) of 4 ply 75% Superwash Merino/25% Nylon
*Highland DK*: 246 yd (225 m) /

 

mini

 

is 49 yards (45 m) of 4 ply rustic 100% Peruvian Highland wool
Single DK: 240 yd (220 m) of single ply 100% super-wash merino wool
Lux DK: 252 yd (230 m) of single ply 40% baby alpaca/40% merino/20% silk
Sparkle DK: 231 yd (210 m) of 4 ply 75% super-wash merino wool/20%nylon/5% stellina (stellina is a very soft nylon fiber, with a very subtle sparkle when the light hits it)
PLY Worsted: 218 yd (200 m) of 4 ply 100% super-wash merino wool
PLY Aran: 181 yd (165 m) of 3 ply 100% super-wash merino wool
Bulky Weight:
PLY Bulky: 106 yd (97 m) of 3 ply 100% super-wash merino wool
Single Bulky: 76 yd (70 m) of single ply 80% super-wash merino wool/20% nylon
Merino Roving: 4 oz (113 gm) of 100% merino wool roving (not super-wash)

Approximate gauges for the yarns:
Lace: 8-10 st/1 in (2.5 cm) on 000-1 US / 1.5-2.5 mm needles
Fingering/Sock: 6-8 st/1 in (2.5 cm) on 1-6 US / 2.5-4 mm needles
DK: 5-6 st/1 in (2.5 cm) on 5-7 US / 3.75-4.5 mm needles
Worsted: 4-5 st/1 in (2.5 cm) on 7-9 US / 4.5-5.5 mm needles
Bulky: 3-3.5 st/1 in (2.5 cm) on 10-11 US / 6-8 mm needles
Click for close-up photos of the yarn bases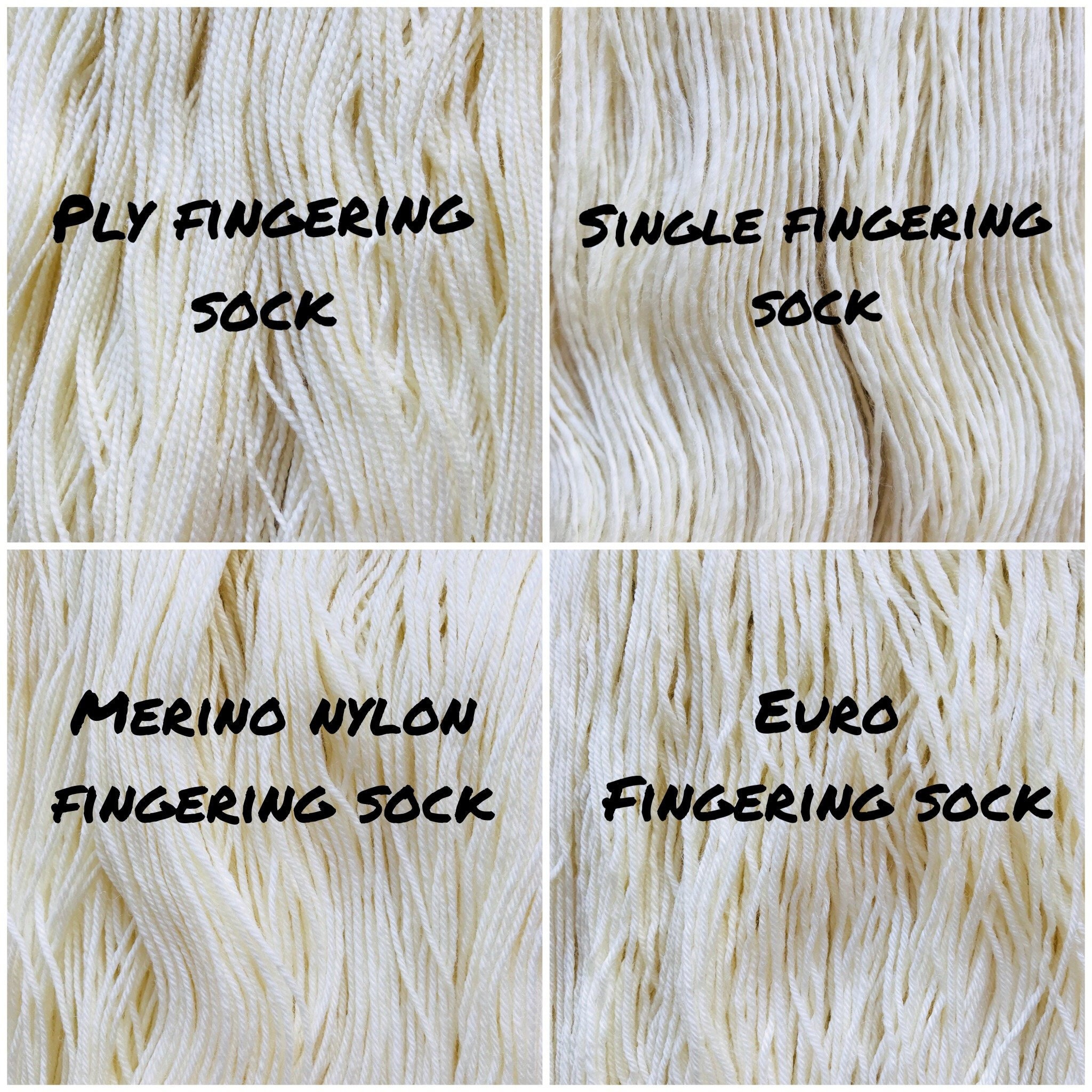 If you need any help choosing a base or have any questions, just ask :)