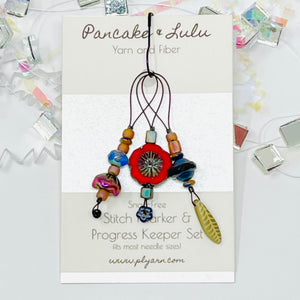 RED FLOWER - Gorgeous glass beads from the Czech Republic. The colors and finish of these beads are spectacular - this is truly jewelry for your knitting!
I make and design these stitch markers to be snag-free and light weight. Made with a thin, strong coated cable wire (the same kind of wire used for high-quality metal circular needles, only much thinner). Versatile fit - they will work with any needle up to size US 15! The stitch markers come in set of 3, as shown. 
The bulb pin can be attached to your knitting to act as a progress keeper while holding the markers until needed.  This closure also allows you to safely attach the set to your knitting bag or basket. You can even wear them on a cord as a necklace - they are so pretty!